Restaurant designers will tell you – there is a lot more that goes into designing a restaurant than simply creating a dining room and a kitchen. The way you design it not only influences the efficiency and sanitation of the space but also what people will do there, including how much they will spend there. Creating a space that is appealing, exciting, and even a little unusual, is a critical step in helping make your restaurant memorable enough to encourage people to want to visit the first time, and then come back. Effective branding also helps to ensure that happens.
What goes into the process? As you work with a restaurant architect like HDA, you'll learn more about the specifics of your type of eatery and the clients you want to attract. Consider a few of the most important factors that play a role in this design process.
Creates the Experience and Atmosphere
The design of your restaurant creates a unique experience your guests will have. Do you want your location to be sober, elegant, and sophisticated? Perhaps you want it to be family-friendly, positive, and fun to spend time in. You may want a space that encourages people to bring their families, or it may be a space designed for quick lunch stops that turn customers over fast.
Both the layout and the atmosphere of the space must work together to create the type of experience you want people to have. Working with our architects and interior designers, you will gain insight into how the materials and looks you incorporate play a role in what you want your customers to do. From small booths for intimate conversations to open spaces with large tables, you have a lot of flexibility in creating a space that works for your needs.
Facilitating the Function of the Restaurant
Your restaurant design also contributes directly to the way your front end and back end will work together to meet your customers' needs. The front end of the restaurant should be designed to set the tone of the space from the entrance and reception area to the flow of people to the bar area and dining room. You also want to ensure that the back end of the restaurant, where the cooking and cleaning take place, is designed to accommodate the needs of the front end.
A core component of this process is incorporating efficiency. Ensuring people can move through the space smoothly, from the kitchen to the dining room, without having to travel too far or through an obstacle course, helps improve outcomes. You also want to be sure the kitchen is efficient based on the types of food you create. It needs to be properly lit and very well-ventilated to ensure proper airflow, odor control, and temperature control in the space.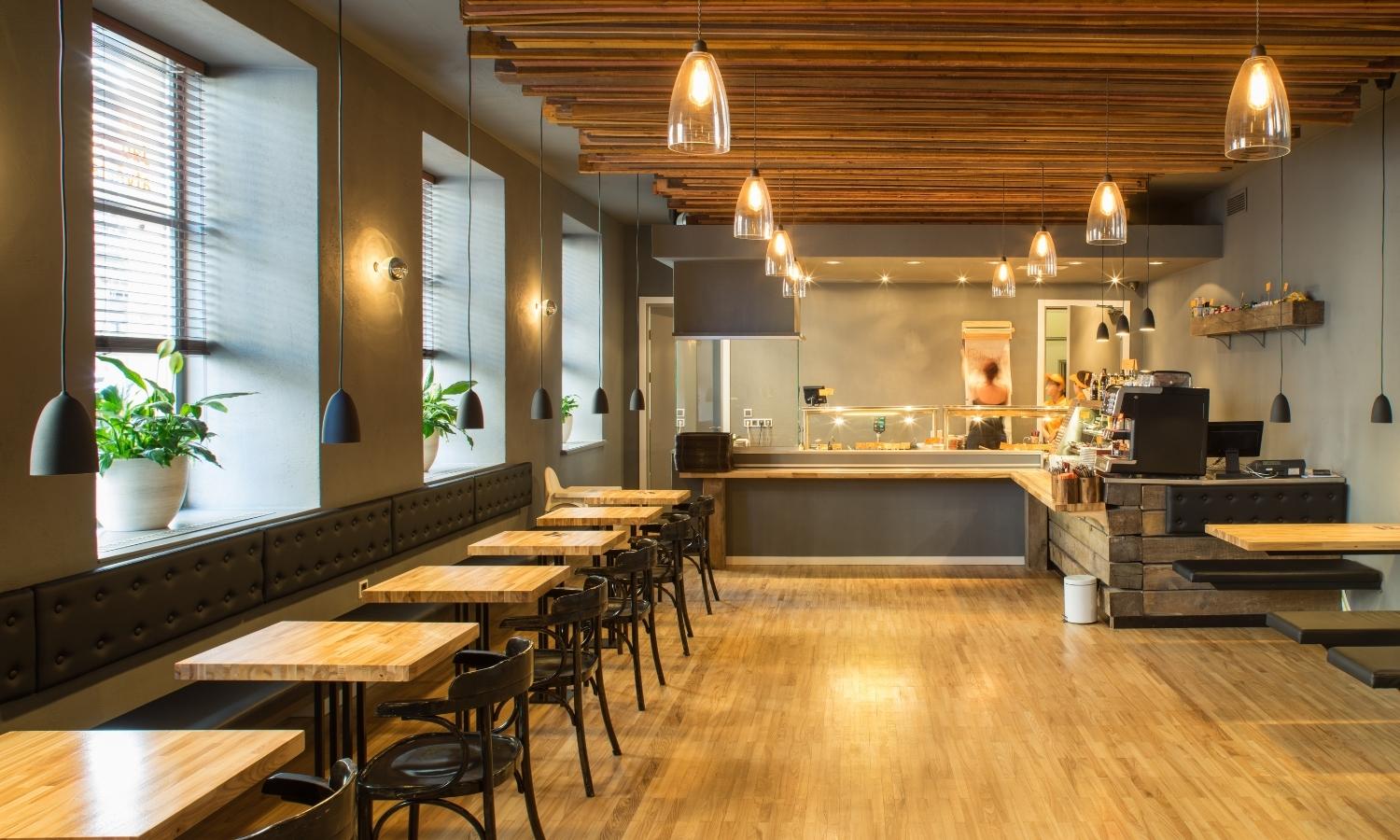 Creating Comfortable Spaces
Working with a commercial restaurant architect, we will help you design a restaurant that is laid out to be efficient for workers but also one that's comfortable for your customers. For example, there needs to be enough room for people to walk between tables and seating areas. You also want to be sure your waiters have the ability to maneuver well enough around tables to meet customer needs.
Human comfort means looking at various aspects of the process, including:
Air quality – consider scent as well as temperature
Room to move within the space
Humidity control in the area
Temperature of the room
Lighting that is appropriate for the experience you wish to create
Acoustic comfort, so it's not too loud to be comfortable
When you work with a restaurant architect, they will work closely with you to ensure you know what all of these options are – what features are most important for creating a space that resonates with your goals.
You also have to consider the best way to use that space. Too much room feels less intimate and may mean that you are not generating enough money to meet the financial needs of your company. Too much seating in a crowded area limits your customers from feeling comfortable and relaxed. The ambient noise created in an overcrowded restaurant can make it virtually impossible to carry on a conversation. This is a very memorable detriment to your customer's overall experience, often encouraging them not to come back.
Core Factors to Keep in Mind
As you begin to work with restaurant architects, there are many small things that must be decided upon to ensure that the experience goes well. Some additional things to consider include the following:
Theming that's attractive and fits your needs but also something that will last.
Neatness and organization of every area of the restaurant, including the tools necessary to create a sanitary and safe place for workers.
Spaces for workers, including breakrooms and places for them to store their items.
Computer systems (and how obvious they are within the space) to facilitate efficiency.
Efficiency, including the flow of tables and the movement of people through the space.
The unlimited choices of lighting and lighting controls
Organizing service areas, filling stations, and bussing areas to eliminate cross traffic.
Ensure Your Restaurant is Designed Correctly with Help from HDA Architects, Inc.
With so much to take into consideration, commercial architects are a must when it comes to designing a restaurant. Work with a company that has experience in this specific area of the industry. Work with them to develop ideas and perhaps even incorporate the special features and elements that you know people will appreciate and come back to time and time again.